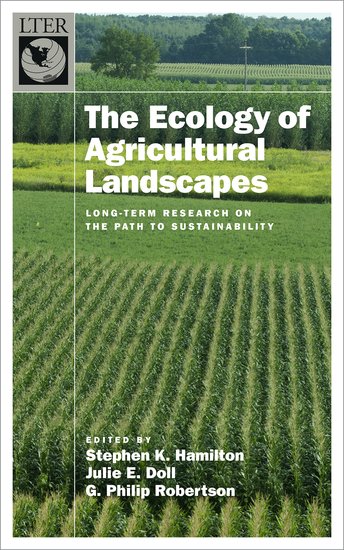 The Ecology of Agricultural Landscapes: Long-term Research on the Path to Sustainability
Editors:
S.K. Hamilton
J.E.Doll
G.P. Robertson
Evidence has been mounting for some time that intensive row-crop agriculture as practiced in developed countries may not be environmentally sustainable, with concerns increasingly being raised about climate change, implications for water quantity and quality, and soil degradation. This volume synthesizes two decades of research on the sustainability of temperate, row-crop ecosystems of the Midwestern United States. The overarching hypothesis guiding this work has been that more biologically based management practices could greatly reduce negative impacts while maintaining sufficient productivity to meet demands for food, fiber and fuel, but that roadblocks to their adoption persist because we lack a comprehensive understanding of their benefits and drawbacks.
The research behind this book, based at the Kellogg Biological Station (Michigan State University) and conducted under the aegis of the Long-term Ecological Research network, is structured on a foundation of large-scale field experiments that explore alternatives to conventional, chemical-intensive agriculture. Studies have explored the biophysical underpinnings of crop productivity, the interactions of crop ecosystems with the hydrology and biodiversity of the broader landscapes in which they lie, farmers' views about alternative practices, economic valuation of ecosystem services, and global impacts such as greenhouse gas exchanges with the atmosphere. In contrast to most research projects, the long-term design of this research enables identification of slow or delayed processes of change in response to management regimes, and allows examination of responses across a broader range of climatic variability. This volume synthesizes this comprehensive inquiry into the ecology of alternative cropping systems, identifying future steps needed on the path to sustainability.
This volume synthesizes two decades of KBS LTER research on the ecology of row-crop ecosystems of the U.S Midwest. Fifteen chapters provide overviews of the many components of agricultural ecosystems and landscapes that intersect to provide a rich variety of ecosystem services in addition to agronomic yield. Understanding these components is key to designing future production systems that meet society's needs for abundant food and a clean environment.
Number of pages: 448
Format: Hardcover
Number of illustrations: 158
Dimensions: 235x156mm
Price: 79.95
Availability: In Stock
Publication Date: 2015-04
Related Site: KBS