The goal of the APEAL project is to understand and support the development of evidence-based public engagement with science (PES) strategies within STEM research organizations, using the LTER Network as our model.
The project will address three specific research questions:
How do scientists, institutional leaders, and staff view and make decisions about the design and implementation of public engagement with science (PES)?
To what degree do PES activities and PES strategies consider the interests and assets of local communities, including those underrepresented in STEM?
How, and to what degree, can scientists, institutional leaders, and staff develop shared PES strategies aimed at enhancing reciprocal exchanges and ongoing relationships with communities?
Our goal is to generate knowledge that will support scientists, scientific organizational leaders, and PES practitioners in targeting specific interventions to improve PES efforts. Our project design involves a set of activities that work across different levels of community to advance PES research and practice.
The project is designed to create a virtuous cycle of feedbacks between engagement practitioners, based at long term sites, and researchers. In this way, research is grounded in the goals, skills, and resources of scientists and site-based communicators, while at the same time, engagement activities are informed by the best available research about what practices are most effective at building authentic and lasting relationships.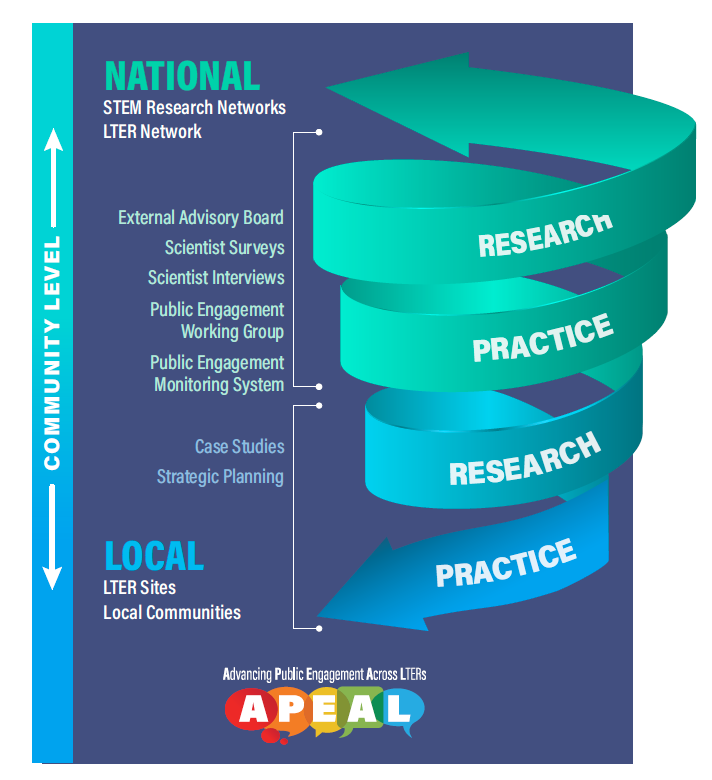 The project is funded by the National Science Foundation under award number 2215187. Any opinions, findings, conclusions, or recommendations expressed in the material are those of the author(s) and do not necessarily reflect the views of the National Science Foundation.