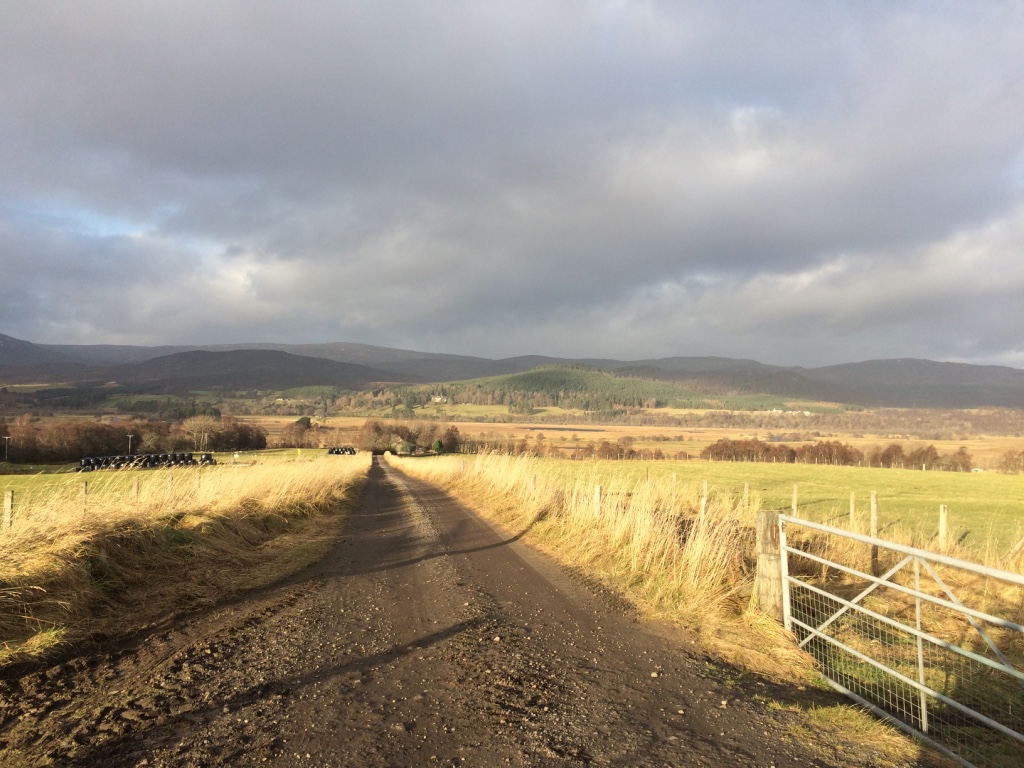 By Jen Holzer
In December 2016, funded by an eLTER Transnational Access grant, I made a visit to the Cairngorms Long Term Socio-Ecological Research (LTSER) platform. The Cairngorms LTSER is the only such platform in the UK; its boundaries are the same as those of the Cairngorms National Park, established in 2003. My mission: to spend a week speaking with about twenty researchers, land managers, and institutional and local stakeholders, whose work is related to the Cairngorms LTSER. I sought to understand how research activities are prioritized, how research may inform policymaking and management activities, and how satisfied stakeholders are with research as it is currently conducted. This case study is one of several I will ultimately use to characterize the state of socio-ecological research across the global LTSER network. My trip began with interviews in Dundee, St. Andrews, and Aberdeen, interviewing ecologists, social scientists, GIS specialists and others about their work in the park, and then I ventured west to the Cairngorms National Park itself.
I learned that the Cairngorms National Park Authority is mandated to manage ecological conservation and promote economic development, a surprisingly integrated vision considering that many economic and governance models still pit environmental protection against economic development. The Authority itself does not own land, nor does it employ park rangers. Rather, it acts as a planning agency that coordinates stakeholders like Scottish Natural Heritage, landholders like private estates (which might host sheep farming, whisky, grouse hunting, and ATV rides), municipalities, and businesses, all within the park.
My visit was planned to coincide with a stakeholder meeting co-organized by my host, Dr. Jan Dick of the Center for Ecology and Hydrology, who was tasked with presenting her findings from the EU's OPENNESS project to the relevant public, and by Dr. Kirsty Blackstock of the James Hutton Institute, who facilitated a discussion with the participants, focusing on stakeholder priorities for future research. This meeting was a highlight of my trip, as I got to participate in a workshop where researchers, land managers, and farmers were able to have an intimate, targeted discussion.
Meetings with stakeholders revealed the tensions of striving for management that captures the multiple priorities of diverse stakeholders – local citizens, recreational users, farmers, and estate managers – who sometimes feel the burden of too many rules.
In a post-referendum¹ and post-Brexit² world, Scottish lawmakers are unsure of their relationship to both Westminster and the European Union, and Scottish researchers are anxious about the continuity of some projects funded by these governments. I heard in interviews that officials relied upon EU-level legislation for the strongest environmental protections, and Scottish Parliament has already enshrined these standards into law; however, some expressed concern about whether Westminster would have the power to undo or modify these protections. These issues were mentioned by multiple interviewees, highlighting feelings of uncertainty about how law, governance and policy-making may change in the near future.
So how feels the pulse of the LTSER overall? I interviewed the advisory committee of the LTSER – three research scientists, one land manager, and one executive of the Cairngorms National Park Authority. The general feeling among these experts was that the LTSER was a framework useful for relationship-building across sectors and coordination of research activities across agencies and programs. Specifically, LTSER creates a forum and a framework for ongoing, periodic stakeholder dialogue, needs assessment with regard to research, and the coordination of research activities, funding, and data management. It was described as one layer in a web of institutions and research frameworks, important for coordination of research, data, and funding.
Great, ongoing efforts are being made to steward this beautiful, remote place, as fairly and effectively as possible, given competing interests. But it seems no pocket of earth is too far removed from a widespread feeling of change and uncertainty that threaten to interrupt the steady progress of ongoing research nor the inexorable human population growth that continues to put pressure on land management priorities.
---
¹In May 2016, the Scottish citizenry voted on the question — Should Scotland be an independent country? 55% of citizens, with a voter turnout of 85%, voted no (http://www.bbc.com/news/events/scotland-decides/results).
²On June 23, 2016, British citizens voted 52% to 48% that the UK should leave the European Union. The act of separating from the EU has not yet occurred, and the implications it will bring are as of yet uncertain.
---
Jen is a PhD student in the Technion Socio-Ecological Research Group in Haifa, Israel and is affiliated with the Israeli LTSER network, with whom she is currently writing an article about applying transdisciplinary action research at the Negev Highlands platform. Her research evaluates impacts of the transition in ecological research toward transdisciplinary socio-ecological research. Her trip to Scotland was funded by an eLTER Transnational Access research exchange grant. She is happy to receive your comments, questions, and feedback at jholzer@technion.ac.il.