Journey to Shark Slough
The boat whizzed past the mangrove trees in Everglades National Park, creating a blur of blue water and green leaves. Rafael Travieso, our captain and lead technician for Florida Coastal Everglades (FCE) LTER, expertly guided us through Shark Slough to a partially hidden wooden dock.
Slowing down, we glided forward until the tip of the boat barely tapped the wooden structure, which created a platform for a solar panel and what looks like a barrel.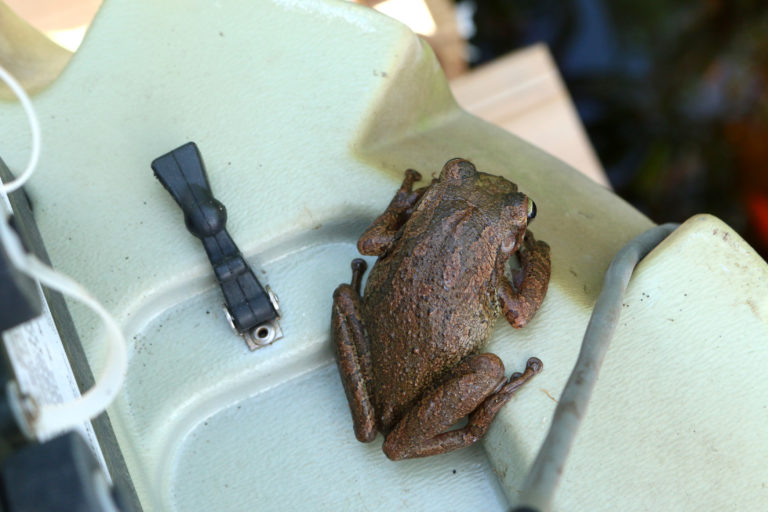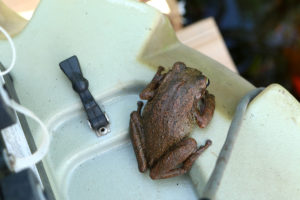 Showing me the inside of the barrel, Travieso explains that it's a device automatically collects water samples, and has been doing so since 2000. "So we have a very long dataset that mainly contains nitrogen and phosphorus readings from [Shark Slough]," he says. Scientists use the long term data to track changes in the Everglades that may be occurring due to climate change or other human influence.
As soon as Travieso lifted the top off the water sampler, a brown-green frog hightailed it away from the light, hiding on the side of the sampler until we replaced the top. Travieso laughed and told me that that frog is always here when he stops in, a perfect demonstration of how wildlife and equipment intersect in the outdoor laboratory that is FCE.
Some interactions are not so benign. As we motored to an additional water sampler, Travieso told me the story of another unexpected finding at one of the Shark Slough sampling sites.
Everglades Pythons and FCE Equipment
Arriving by boat as usual, he discovered a fourteen foot Burmese Python wrapped around the base of the solar panel. That's right, a PYTHON.
The Everglades is suffering from a massive invasion of Burmese Pythons, likely released in Florida by negligent pet owners and originating in southeast Asia. Though not venomous, they are incredibly strong, and I for one would not want to come face to face with such a behemoth while trying to collect water samples.
Though they generally do not pose risks to people, the pythons put pressure on their native species prey, while outcompeting other predators for food. Mammals like the raccoon, bobcat, and possums have almost entirely disappeared from areas where the pythons have been established for the longest length of time.
While it's nearly impossible to know how many pythons currently inhabit the Everglades, the national park staff report that over 2,000 have been removed since 2002. Officials have tried a range of programs to reduce the snake, including Python Derbies where hunters compete to remove as many pythons as possible, and the relatively new Python Elimination Program run by the South Florida Water Management District that pays "public-spirited individuals to kill these destructive snakes."
After more than a decade in the field, however, Travieso remained calm and collected. Carefully uncoiling the snake, he placed it in a large cooler on the boat for transport, eventually handing it over to wildlife staff within the national park for their ongoing python studies. No invasive species was going to prevent Travieso from completing his water quality monitoring!
LTER sites, including FCE, often involve difficult outdoor fieldwork in the elements. Not only do the scientists contend with weather conditions, they must also be continually aware of the wildlife that uses the lab sites as their habitat. Gathering data can be a complicated job, and it's just one of the many reasons scientists are my heroes!