One goal of the LTER Diversity, Equity, and Inclusion committee is to facilitate the formation of spaces for community-building among those of us who do not see our identities sufficiently represented in our professional spaces. The committee's hope is that improving cross-site interactions can help LTER community members increase connections within their professional network, facilitate near-peer mentorship, and increase a sense of belonging within the network.
The committee would like to invite all members of the LTER community who self-identify as a member of a group that is underrepresented in the network, their site, or their professional spaces to join a monthly conversation group via Zoom. Each month  the group will highlight the work of underrepresented researchers from a different region within the network and discuss a topic of general interest in a safe, professional, but casual setting.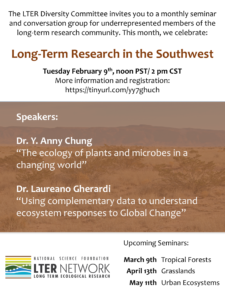 The group will kickoff their meetings on Tuesday, February 9th, 2021 by highlighting work from colleagues in the Southwest and by talking about mentorship and the ways that we have found (or not found) the support and guidance we need to navigate mostly male, white, straight, cis, able bodied spaces in ecology and the academy. The Community Building Working Group has other ideas for topics that might be of broad interest but would like the group to self-direct and organically propose topics of need and interest for our communities.
Please join us on February 9th at noon PST/ 2 pm CST by registering here. This first hour-long session will feature Long-term research in the Southwest, with guest speakers Dr. Anny Chung and Dr. Laureano Gherardi speaking about plant and microbial ecology and using complementary data to understand a changing world.
A note from the Working Group organizers:
We welcome committed allies to join this group and the conversations within it. However, we want to be intentional in creating a space by and for those of us that identify with one or several underrepresented identities in the network. This is not a space designed for allies to become more educated, it is a space for members of the LTER community who do not see themselves sufficiently represented to connect. We hope that all who can benefit from this community will join us. For allies looking to build their knowledge individually or in a separate space, there are many resources specific to ecology curated on the LTER Network webpage – and the Diversity, Equity, and Inclusion committee always welcomes new ideas.
We do not intend to lump all underrepresented identities as  a monolith. We recognize that our Black and Indigenous colleagues have historically (and continue to be) disproportionately oppressed and face the worst of the institutional racism entrenched in our disciplines. We acknowledge that our research and many of our academic spaces were built on stolen land. We recognize the pain that this brings to our Indigenous colleagues. Sadly, representation remains low in ecology and related disciplines for many identities. We hope that this space can help increase connections between scientists who have experienced discrimination and exclusion in professional spaces — even though they may not fully understand each other's particular struggles.